Welcome to
Wah Hing Jewellery & Arts Co. Official Website


Change of E-mail Address:
We would like to announce the change of our email address effective April 1, 2015. Please send all email correspondence to us solely to
jewellery@wahhingja.com
We thank you for your attention, and appreciate all your business.
Please click onto the link to become a fan of us on Facebook.
We Moved to Mody Road!!
Dear Friends,
Thank you for your business and purchase of the years. With the expiration of the lease in Silvercord at Canton Road, we moved to new location ground floor store at Mody Road in the beginning of June, 2011.
Please update your records accordingly.
Wah Hing Jewellery & Arts Co.
G/F, 41E, Mody Road
Ocean View Court,
Tsimshatsui,
Kowloon , Hong Kong.
Tel: (852) 2366 8603
Fax: (852)2366 8603

E-mail address: wahhingja@ismart.net.hk
Website: www.wahhingja.com
Our phone number and email address remain the same as stated above.
We hope this ground floor location would be easier for find. We look forward to serving you in our new store.
Sincerely yours,
Sunny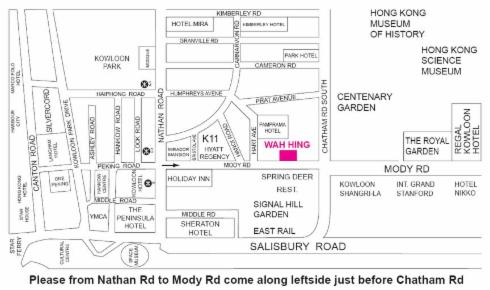 New Designs are Now Available!!
MAIL & E-MAIL ORDER ACCEPTED

Please click onto the Jewellery Design page to see our latest jewellery design. Or if you have any questions or comments, we will be happy to answer or assist you. Please click onto the Contact us page for our contact information.